Care Refresh for DJI FPV drone: Why it is so costly?
If you're paying close to $ 1500 for a flying device, you should get insurance in addition to the base warranty that only covers manufacturing defects. Care Refresh for DJI FPV Drones is available in 1-year and 2-year plans. A coverage for 12 months is $ 199 and for 24 months is $ 319. Is this price fair? Let's find out if it's worth it!
The learning curve of flying FPV drones is similar to learning to skateboard. You fall, stand up, and try again until you master your skills. Even the most experienced pilots can crash their drones during a risky maneuver. The DJI's FPV drone may not be comparable to any other FPV drone due to its advanced failsafe features, but trust me it is not bulletproof either.
Since the Care Refresh service mostly requires the damaged drone to be returned, you should always fly in areas where you can restore it. DJI CR offers 2 replacements for the 1 year plan or 3 replacements for the 2 year plan. You can have yours DJI FPV drone replaced in the event of an accident for a small additional charge. The replacement devices are brand new or brand new in performance and reliability.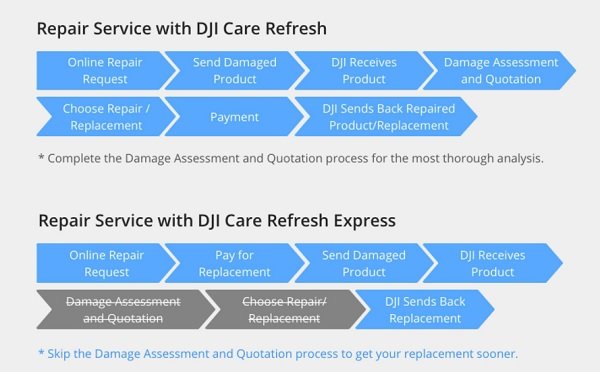 You can purchase the DJI Refresh Plan for any brand new or non-activated drone. Your quadcopter must have been activated within the last 48 hours, otherwise you must visually prove that the drone is fully functional.
Which DJI FPV Drone Care Update is Covered?
Operator errors or mistakes a pilot might make during normal use;
Signal interference, loss of signal that caused a crash;
Collisions and accidents;
Water damage.
What will DJI FPV Drone Care Refresh be Not Home page?
Lost drones, parts or accessories;
Deliberate loss (they check flight logs);
Stolen, Forgotten, or Abandoned Products;
Cosmetic damage (scratches or abrasions that do not affect functionality);
Repaired drones in unofficial DJI repair services.
Conclusions
In case you only fly the occasional once a week and are an experienced pilot who flies responsibly, I don't know if it's worth paying for $ 199 worth of insurance for a $ 739 worth of drone. You may have paid $ 1299 for the DJI FPV drone combo pack, but most likely all you can do is damage the aircraft in flight, leaving the rest of the equipment (transmitter and goggles) in one piece 🙂
On the other hand, such VIP service is a must if you are a newbie or someone who wants to fly a lot. You will receive a replacement device in a very short time.
The 2-year DJI Care Refresh at a Glance seems worth more ($ 319 versus $ 199). Even if the period covered is twice as long, you will only get 3 replacement units instead of 4. You should also take into account that after two years a used drone is not even worth half of its original price.
In addition to the DJI Care Refresh subscription, there is a fee for each replacement device. In the case of the 1 year plan, you'll have to pay $ 259 for the first unit and $ 279 for the second unit. Practically, you pay 199 + 259 + 279 = $ 737 for the replacement units. If you do the math, you pay for one drone and you get two.