Eachine EX5 spare components and equipment
Like all drones, this is Eachine EX5 has a limited battery life. With a peak time of 25 minutes, you definitely need extra batteries so you can fly and shoot your EX5 drone without having to be grounded for a few hours while charging your single LIPO backpack. You never know when you might need extra flight time for another cool drone flight! We recommend 3 replacement batteries for this drone.
Accidents also happen to experienced pilots. The first victim in a drone crash is the propellers. Even landing in tall grass is enough to crack or damage a propeller. Therefore, it is very important to have a few spare props with you. If you bump into a tree or something else, most likely an arm will be broken. Don't worry, replacement trees are also available.
Where can I find Eachine EX5 parts?
Eachine is a private label of BanggoodTherefore, they offer genuine replacement parts at a fair price in the event that you crash or break your EX5 drone.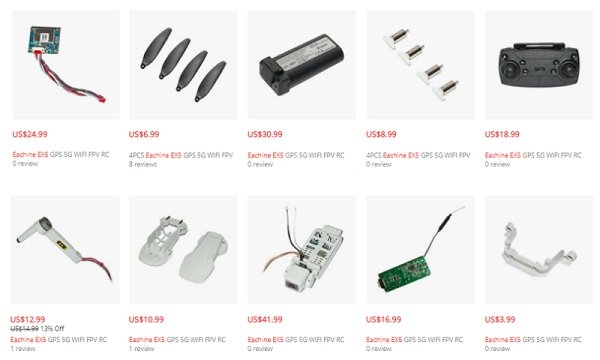 EX5 Camera Module – 200m / $ 41.99 or 1000m / $ 49.99 –

Order from BG

;;
Replacement battery (7.4 V / 2200 mAh) – $ 30.99;;
Housing / housing (upper / lower shell) – $ 10.99;;
Complete arm with motor and LED (front left / right and rear left / right) – $ 12.99;;
EX5 GPS module with cables – $ 24.99;;
Compass Geomagnetism Module – $ 11.99;;
Replacement propeller (A and B) – $ 6.99.
In case you've lost or broken your Eachine EX5 remote control, there is no problem finding a replacement remote control Here for only $ 18.99 + shipping.
#AD from DJI