JJRC X17 Poilt 6K GPS drone beneath $200
The new JJRC X17 drone has some advanced features like GPS positioning, brushless motors and a 6K camera with 2-axis gimbal stabilization. The X17 Poilt has a flight time of around 30 minutes and a range of up to 1000 meters.
It comes with powerful brushless motors that ensure excellent flight performance. According to the specifications given, the JJRC X17 can reach a top speed of 7 meters / second and handle level 6 gusts.
Thanks to the GPS-supported fail-safe RTH, the drone automatically returns to the starting point in the event of low battery voltage or loss of RC signal.
With folded arms, the plane measures 17 × 11.5 × 6.7 cm and weighs 500 grams. You can order it at Banggood in two colors: orange and green.
JJRC X17 Drone Features and Specifications
Backpack-friendly folding design;
GPS + optical flow positioning;
Brushless motors with 6-stage wind resistance;
6K camera with mechanical 2-axis cardan stabilization;
Dual camera switching;
5700 * 4275 photo and 2688 * 1512 video resolution;
5 GHz WIFI real-time image transmission;
Smart return home (manual, low battery, loss of RC signal or out of range);
Control range of about 800-1000 meters;
Up to 30 minutes of flight time.
The JJRC X17 drone has several intelligent flight modes that allow you to fly the drone hands-free and get better shots.
Follow me – the quadcopter detects the GPS position of your smartphone and follows your movements.
Orbit Mode – Lock the drone at a point of interest and it will orbit that location automatically.
Waypoint – Draw a trajectory in the mobile app and the drone will automatically fly that route and return to your home.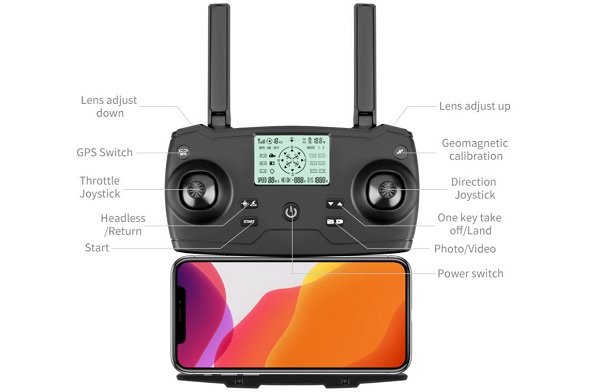 JJRC X17 remote control
As you can see in the picture above, the X17 is equipped with a transmitter similar to its smaller brother, the JJRC X16. It adopts the same minimalist design, just black instead of white. In addition to the usual control sticks, there are only 5 buttons and a status screen on the front.
The transmitter is operated with 3 AA batteries and has a range of approx. 800-1000 meters.
#AD from DJI