JMRRC SKYDROID MX450 9″ long-range FPV drone
The long-range FPV drone SKYDROID MX450 is based on a 450 mm nylon frame with carbon fiber parts. It has GPS positioning and omnidirectional detection. The frontal FPV camera is installed on a uniaxial gimbal that allows remote angle adjustment. The integrated FPV transmitter should have a range of up to 5 km.
According to the stated specifications, a 3S / 4200mA battery can remain in the air for up to 34 minutes. Without the battery, the drone weighs around 650 grams.
The SKYDROID MX450 is equipped with a nice 10-channel remote control for beginners. For autonomous flights it can be used with the Tower Ground Station APP.
SKYDROID MX450 Features and Specifications
Specially designed for long haul flights;
450 mm nylon + fiberglass frame with canopy;
BMI088 + MS5611 + M8N GPS industrial sensors;
2212/2312 powerful brushless motors with 2-blade 9-inch propellers;
G_DCAM FPV camera with uniaxial gimbal (remote adjustment of the camera angle);
FPV remote transmitter (2 ~ 5km);
3S / 4200mAh LIPO battery for up to 34 minutes of flight time;
T10 – 10-channel transmitter (FHSS modulation);
Compatible with

Tower APP

;;
Product images
Main parts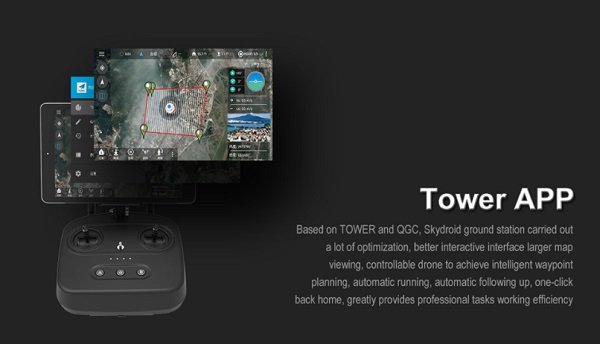 APP
FPV system
Engine and propeller