LS-E525: Mavic Mini clone underneath $50
There are many Mavic Mini alternative This looks like a DJI drone, but if you dive into its specs, you'll find that they're just cheap copies. Most of them, including this LS-E525 feature, are just brushed motors which are less reliable when compared to the MINI's brushless motors. They also have dummy gimbals instead of motorized ones for real image stabilization.
With arms crossed, the LS-E525 drone measures around 12 * 8 * 5.5 cm and with arms outstretched, ready to fly, 25 * 23 * 5.5 cm. It has two bright navigation lights on the front. In addition to the front 4K camera, there is a second on the belly of the aircraft, which serves as an optical flow sensor.
Sponosored AD
According to the technical data, the 1800 mAh battery allows a playing time of up to 15 minutes, which is half of the Mavic Mini.
Features and specifications of the LS-E525 drone
Mavic Mini alike design with foldable arms;
Brushed motors with 2-blade folding supports;
Optical flow sensor for stable floating;
On-board 4K camera (4096 * 2160 photo and 2160 * 1080 video resolution);
WiFi real-time video transmission (FPV);
Manual adjustment of the camera angle;
Over 100 meters of control area;
Up to 15 minutes of flight time.
Accessories included with the LS-E525 quadcopter:
Remote control with phone holder;
3.7 V / 1800 mAh flight battery;
USB charging cable;
2 pairs of spare propellers;
1 set of blade quads;
Screwdriver;

Drone manual

.
Product images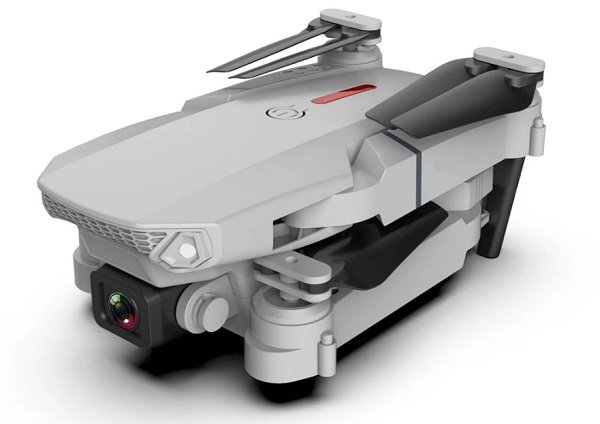 Crossed arms
Front view
Top view