Ruko F11 vs Holy Stone HS720E: Finest drone on Amazon for $300
Unfortunately, with only $ 300 in your pocket, you can't afford a DJI drone, but there are still few nice drones to consider. Today we're going to be comparing two of the most popular 4K drones that you can buy on Amazon in this budget. Our comparison between Ruko F11 and Holy Stone HS720E includes features, range and battery life.
I'll start with the Ruko F11 GIM which is basically being renamed SJRC F11 4K Pro. Not only does it have the same design, but also almost identical properties. As you can see from our test report, the F11 series has been continuously improved in recent years. The F11GIM's 4K cameras are installed on a 2-axis gimbal. In addition to mechanical stabilization, it also offers electronic image stabilization (EIS).
The HS720E is a very good looking quadcopter, it is made of high quality plastic and feels first class. Like its competitor, it also has a stabilized 4K camera. With arms crossed it measures 172 x 104 x 56mm and comes with a pretty cool travel-friendly case.
The most important difference to the Ruko F11 GIM is the lower camera, which serves as an optical flow sensor. With a 2S 2800mAh battery, the Holy Stone HS720E drone has about 22 minutes of flight time.
Ruko F11 GIM vs. Holy Stone HS720E in-depth comparison
In the table below, I tried to compare the key specs of both 4K drones. I've highlighted in red where the F11GIM excels and green where the HS720E shines.
F11GIM 4K
HS720E 4K
size
Folded: 176 × 105 × 80 mm
Folded: 172 x 104 x 56 mm
Weight
585 grams

495 grams

s
camera
4K @ 30fps
4K @ 30fps
stabilization
2-axis cardan ring + EIS
2-axis cardan ring + EIS
Range

1500m

1000m
Active tracking
Yes
Yes
Obstacle avoidance
No
No
Geofence
No
No
Optical flow sensor
No

Yes

Second camera
No

Yes

battery
3S 2500mAh
2S 2800mAh
Flight time

28 minutes

23 minutes
FAA registration
Yes
Yes
price
$ 329.99

$ 259.99
F11 GIM vs HS720E: battery life
While the Rukon F11GIM is powered by a 3-cell battery with 2500 mA and the HolyStone HS720E by a 2800 mAh LIPO battery. The higher performance battery enables the F11GIM to fly about 5 minutes more than the HS720E. Both batteries are charged via a micro USB port, which takes more than 5 hours. Both drones can be purchased in a bundle with 1, 2 or flight batteries.
F11 GIM vs HS720E: flight range
Even so, these two drones use (at least apparently) the same transmitter and have a different advertised flight range. The F11 GIM 4K is 1500 meters and the HS720E only 1000 meters.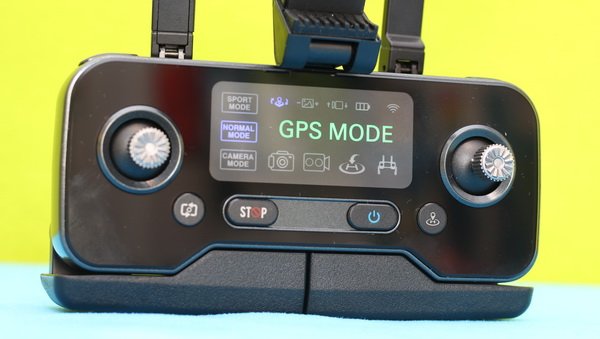 The remote control that came with these drones has a beautiful piano black finish with an integrated status indicator and folding antennas. The LCD screen provides telemetry data such as GPS mode (ON / OFF), airplane mode (sport / normal / camera), camera status and RTH. Further flight parameters (speed, altitude, distance and battery level) are provided via the mobile app. The RC is powered by a built-in battery that can easily withstand a few flights.
Conclusions
Both drones are amazing for their price. They have similar flight characteristics and camera performance. I would recommend them to anyone looking for value for money!
Keep in mind that both drones, weighing around 500 grams, must be registered to legally fly in most countries, including the US and Canada.