SKYREAT Mavic Air 2 case: Secure and comfy
Certainly the biggest advantage of the Mavic Air 2 combo against standard Edition, is the longer playing time (3 vs 1 battery) and the included shoulder bag. If you have a limited budget and stick to the standard, that is SKYREAT Mavic Air 2 case seems to be a great solution to safely store and transport your valuable drone, especially it's about twice as cheap as DJI's Air 2 bag.
SKYREAT is a Chinese company that focuses on DJI and GoPro accessories. The product portfolio includes housings, filters, mounting accessories and other useful gears. For Mavic Air 2 they currently offer a 6 filter kit (ND8, ND16, ND32, ND64, UV and CPL), a 4 filter kit (ND8 PL, ND16 PL, ND32 PL and ND64 PL) and the case presented in this review.
Sponosored AD

SKYREAT Mavic Air 2 highlights of the case
Specially developed for Mavic Air 2 drones;
Compatible with standard and fly combo versions;
Special compartment for airplanes, remote control and accessories;
Comfortable wrist strap and adjustable shoulder strap;
Large zipped internal mesh pocket;
Compact size (12.9 x 5 x 9.4 inches).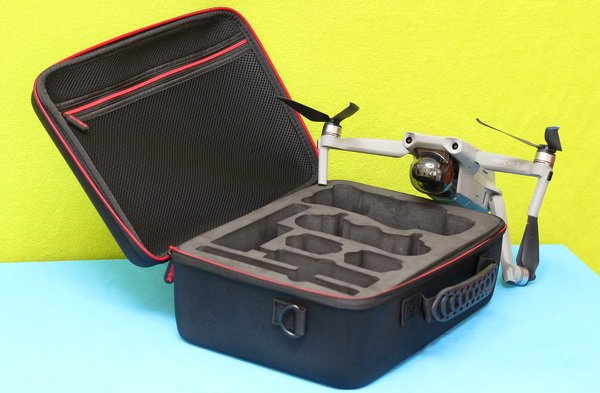 SKYREAT DJI Mavic Air 2 case report
Disclosure: I received this case as part of a collaboration with Product Review Skyreat. Although the product was offered for free, all opinions in this review remain my own!
The case measures 12.9 x 5 x 9.4 inches and weighs about 700 grams. For comparison: The shoulder bag from DJI has a size of 7.8 x 7.8 x 5.9 inches and 500 grams. Both can store a similar number of gears. The case is completely black with red zippers and a minimalist design. Those who consider bags as fashion accessories will not be amazed. In addition to the built-in handle, it has a removable shoulder strap so that it can be carried either as a shoulder bag or as a briefcase.
There are special compartments for each gear inside the rear flap. There is only a large mesh compartment on the upper flap for additional accessories (such as replacement propellers and cables). The transmitter bay is designed so that it can be loaded with attached sticks. This is good because it reduces the risk of them being lost on the airfield.
You can save the following things in detail:
DJI Mavic Air 2 including battery, props and gimbal protection;
3 flight batteries (2 in foam and 1 in drone);
Mavic Air 2 remote control;
Standard battery & RC charger;
Fly more combo charger hub;
RC – SmartPhone cable (Micro USB, Type C and Lightning);
Large zipped multi-purpose mesh pocket for spare props, memory cards and other things.
During the making of the Mavic Air 2 review I had more than 50 trips to different locations for test flights. Such a case would have made my job easier – without having to remove propellers and transmitter sticks every time I pack it up. In rough terrain that is not suitable for the start of your flight, it can also be used as a starting pad.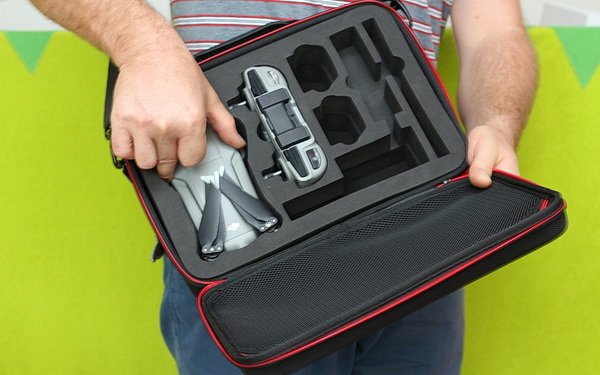 Price and availability
Skyreat accessories, including this case, can be found on Amazon, eBay and other online retailers. At the time of publication of my review, it is listed for 39.99 euros, which probably makes it one of the cheapest Mavic Air 2 hand / shoulder cases.
Editor's ratings
Price-performance ratio

Design and build quality

Loading capacity

protection
judgment
SKYREAT has designed a great case for your Mavic Air 2. It is a simple, affordable and custom-made bag. It offers space for the drone, remote control and accessories that make up the Fly More Combo. In addition, it has a practical mesh pocket with zipper for smaller gears.
User rating
3.5 (2nd Be right)
What I liked
Suitable for Mavic Air 2 Combo and Standard;
You do not have to remove the controller sticks.
Adjustable shoulder strap with metal clips.
What I did not like
Smells ugly in the first few days;
The internal room cannot be reconfigured.
Photo gallery