VISUO K1 PRO with 4K digital camera 2-axis gimbal
The new, improved VISUO K1 PRO drone has a 4K camera and 2-axis cardan video stabilization. In addition to the front main camera, there is a second camera under the torso that serves as an optical flow positioning sensor. You can even switch between viewing these two cameras. The K-1 PRO offers 5 GHz WiFi real-time image transmission.
Like most actual drones, it also has a backpack-friendly foldable design. With crossed arms, the VISUO K-1 PRO measures just 10.5 x 7 x 17 cm. Weighing almost 500 grams, FAA registration is required.
Sponosored AD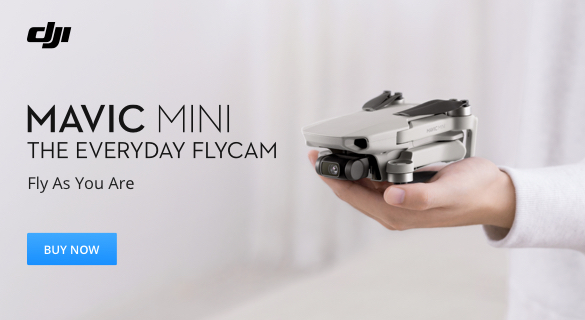 According to the technical data, the 3s / 2500mAh battery enables a battery life of up to 30 minutes. The LIPO package can be conveniently charged with any USB charger.
Price and availability
The Visuo K1Pro can be ordered from September 22nd Banggood and other online retail stores for $ 159.99. The "Fly More Combo" deluxe package with 3 flight batteries and a shoulder bag can be purchased for US $ 239.99.
Features and specifications of VISUO K-1 PRO
Backpack-friendly foldable design;
GPS + optical flow positioning;
Powerful 1806 1200KV brushless motors;
4K camera with 2-axis mechanical stabilization;
Video resolutions 2048 × 1080 and photo resolutions 4096 × 3072;
5 GHz WiFi real-time image transmission;
Remote angle adjustment of the servo camera (upwards 75 ° downwards 90 °);
Dual camera switching;
Human Figure Following (ActiveTrack) and Orbit mode;
TikTok video editing for vloggers;
Up to 1600 meters control range and 800 meters FPV range;
About 30 minutes of battery life.
In addition to intelligent flight modes such as Follow me, Circle Hovering and Waypoint Flight, it also offers the "Headless" mode, which helps newcomers to long-haul flights to orientate themselves when it is difficult to know where the nose is pointing.
VISUO K1 PRO remote control
Visuo packages its K-1 Pro drone with a compact, lightweight and easy-to-use remote control. 4 AA batteries are used, which are not included in the scope of delivery. Aside from the usual things (joysticks and buttons), there is a nice status LCD screen in the middle of the remote control. The tiny display provides real-time telemetry data such as flight distance, altitude, RC signal strength and battery life. The broadcaster claims to provide more than one mile of control area.
Alternatives
If you're looking for a 3-axis Mavic-like drone under $ 200, you should check out my recently released one SG906 Pro 2 review. It has all the functions of the VISUO K1 PRO as well as better image stabilization.